Luciana Lopes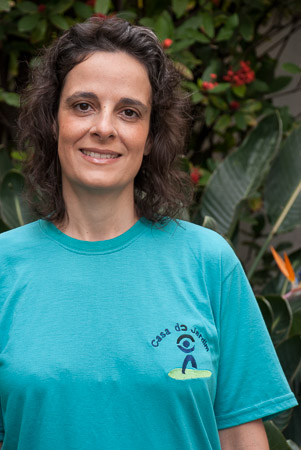 Luciana Lopes
Strategic and Projects Manager
Luciana is from Belo Horizonte, Minas Gerais. She has a BA in International Business from the School of Finance and Management at Emile Woolf College/Oxford Brokes University in London, and a Master´s Degree in Sustainable Design from PUC-Rio and a Specialization in Project Management from IETEC, Belo Horizonte. Since 2001 Luciana works in the Non Profit Sector in the management of social project with the focus on local development: education and income generation (entrepreneurship, employability, fairtrade, sustainable consumerism and culture). She began her work at Casa do Jardim in 2011 as a volunteer, providing consulting services to this Organization in the Strategic and Projects areas. In March 2013 she return to Casa do Jardim as a staff team member. Today she is responsible for the Strategic, Projects, Financial, Communication, Governance, Fundraising and Partner Relationship areas.
Why do you like being a part of the CJ team?
"I like to be part of the Casa do Jardim team for this is a responsible, ethical, transparent Organization that develops legitimate educational projects that motivate, move and transform people that are involved in them."
What impact do you think CJ is making in Jardim Canadá?
"I believe Casa do Jardim contributes to the social transformation of Jardim Canadá through the quality and innovation of its educational and research projects by encoraging the involvement, attention and respect of parents and school towards the education of their children and students, through the appreciation of partners and Board, through the commitment the Institution has strenghtening the learning process and integrity of the children, as well as recognizing and motivating all the actors involved in this process as co-responsible for the transformation of the education and local development of the region."